De 7 Deugden
Get in touch:
Address: Akersluis 8D
Postal code: 1066 EZ
City: Amsterdam
Region: Noord-Holland
Country: The Netherlands
Telephone: +31 (0)20 6673221
Website:
de7deugden.nl/en
Description & Information:
Brewery De 7 Deugden (The 7 virtues) work for people with disabilities. People who do not get to work anywhere else. They do not come to us because of their shiny resumé, no, in fact these people say:"I am empty-handed, give me a chance". It requires courage to put yourself in such a vulnerable position.
With De 7 Deugden, we do not ask what people can't do, but what they can do. In course of time we often discover what their strength are. In this process of searching and discovering our people are also rising to their limits. They are constantly confronted with their limitations, and allthough painful they keep going. It takes courage to go through this proces.
We call our beer brave because it is different. We don't bother with fashion fads, habits or beer style regulations. We make beer that has taste, a lot of taste. We make beer that you wont't easily forget. We make beer that you combine with a good meal or delicious cheeses. You can call us contrary, call the beer "particular" or "different" and when you like our beers then call yourself curious, sensualist, or even better brave.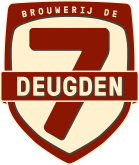 Latest news
Danish Carlsberg wants to sell beer in paper bottles
---
Carlsberg is getting closer to its goal of selling beer in paper bottles. The Danish beer company revealed two new recyclable prototypes of the sustainably-sourced wood...
read more
Tennents investing 14m in green
---
Scottish drinks giant Tennent's has said it plans to invest £14m in environmental initiatives. From next Spring, cans of the lager - made at the Wellpark brewery in...
read more
Family Fun: Labor Day fireworks and beer fests
---
A list of family-friendly events in the Houston area.
Oldest evidence of beer found in Iraq
---
Archaeologists have found traces of beer in Iraq, dating back 2,500 years to ancient Mesopotamia and the Babylonian Empire. While texts from those forgotten days speak of...
read more
[Graphic News] South Korean beer exports to China surge
---
 South Korea's beer exports to China more than doubled in 2017 from the previous year, but exports of other alcohol drop