Old Milwaukee
Description & Information:
The Old Milwaukee brands have always stood for steadfast American quality. These masterfully crafted lagers revel in being predictably superior and uncomplicated. No gimmicks, just great tasting beer. How great? Old Milwaukee Light is the most award-winning light beer in the history of the Great American Beer Festival. Which proves that there's nothing more refreshing than a commitment to fundamentals.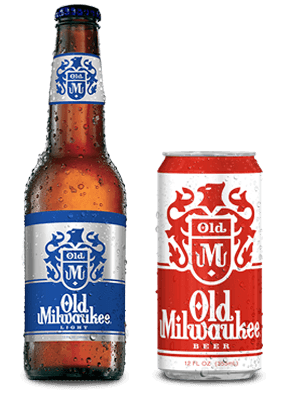 Reviews
Debbie Loftus wrote on Sunday 19 December 2021:
My wish for Christmas, is a case of long neck old Milwaukee. Just like we had with the folks, my 4 brothers and I would enjoy that. Where can I pick up a box????
lee france wrote on Friday 26 April 2019:
I have been looking for Old Milwukee beer long necks to take to Houston Mo to my Grandson and cannot find it anwhere.I live in Woodstock Il Do youmake it anymore.
Kenny Rogers wrote on Saturday 2 February 2019:
I've been drinking old Milwaukee light for about 28yrs and nothing compares. It's getting harder to find but I think the younger people aren't giving it a try because it's not a new up and coming brew. It's been around and gets over looked. Pour it in a glass along with other craft beers and I think it would be a huge hit!!
Write your review or opinion about Old Milwaukee:
Latest news
Free beer give-away
---
Anheuser-Busch is to give away free beer when the U.S. hits Biden's July 4 vaccination goal. Anheuser-Busch, the country's leading brewer, today announced a national...
read more
Corona Beer to Halt Production
---
The suspension was announced days after the Mexican government ordered nonessential businesses to close. Corona beer has become a temporary victim of the...
read more
Johnny Walker pours whisky in paper bottles...
---
Johnnie Walker, the whisky which traces its roots back 200 years, will soon be available in paper bottles. Diageo, the drinks giant that owns the brand, said it plans to...
read more
Danish Carlsberg wants to sell beer in paper bottles
---
Carlsberg is getting closer to its goal of selling beer in paper bottles. The Danish beer company revealed two new recyclable prototypes of the sustainably-sourced wood...
read more
Tennents investing 14m in green
---
Scottish drinks giant Tennent's has said it plans to invest £14m in environmental initiatives. From next Spring, cans of the lager - made at the Wellpark brewery in...
read more