Lovecraft Honey Ale
Description & Information:
"When the brewery was shut down, the spirit of Narragansett never died; it went underground, to a deep and dark place. Since reclaiming our beer in 2005, we've worked hard to stay true to our roots. But after being in that dungeon for so long, we came back with some baggage. Just like the nameless protagonist from "The Outsider", we emerged in the light a little different. A little…strange. Think of this brew as our bold, our obscure, our tampered-with mind. It won't be for everyone, and if it isn't for you, you'll know exactly who it IS for. This is OUR Lovecraft." – Mark Hellendrung

Roll out the Barrel: 7% Alcohol by Volume and 30 IBUs. The Lovecraft Honey Ale draws its rich, malt flavor from the featured Honey Malt. It will be available in 16oz Tall Boys as well as a very limited run for tap.

Quality Supreme: Brewed in collaboration with Sean Larkin, Head Brewmaster for Narragansett and owner of Revival Brewing, Lovecraft Honey Ale is made with a base of honey malt and finished with a touch of hops, producing a bold yet sweet honey-colored ale.

Taste & Enjoy: The spirit of alchemy and mischievous behavior is alive in this brew. Backboned by the combination of five pale malts, the beer opens up with a hint of honey sweetness, then turns with a herbal hop crescendo and a smooth finish. The Lovecraft Honey Ale was inspired by the Space Mead consumed by winged Byakhee as protection from "interstellar space travel" in Lovecraft's "The Festival". Pretty awesome, right?

The History: Born in 1890, the same year that Narragansett Beer was founded, H.P. Lovecraft spent the majority of his life in Providence as a struggling author, only achieving literary fame posthumously. Commonly referred to as the "Father of Modern Horror," he is often cited as an influence on other notable authors and artists from Stephen King to Metallica to Ridley Scott. H.P. Lovecraft is best known for creating Cthulhu, a fictional deity described as being part man, part dragon and part octopus. It is this creature that inspired the Cthulhu Mythos, a cultural lore and shared fictional universe of Lovecraft's successors.

The label artwork for Lovecraft Honey Ale was designed by Providence-based artist AJ Paglia.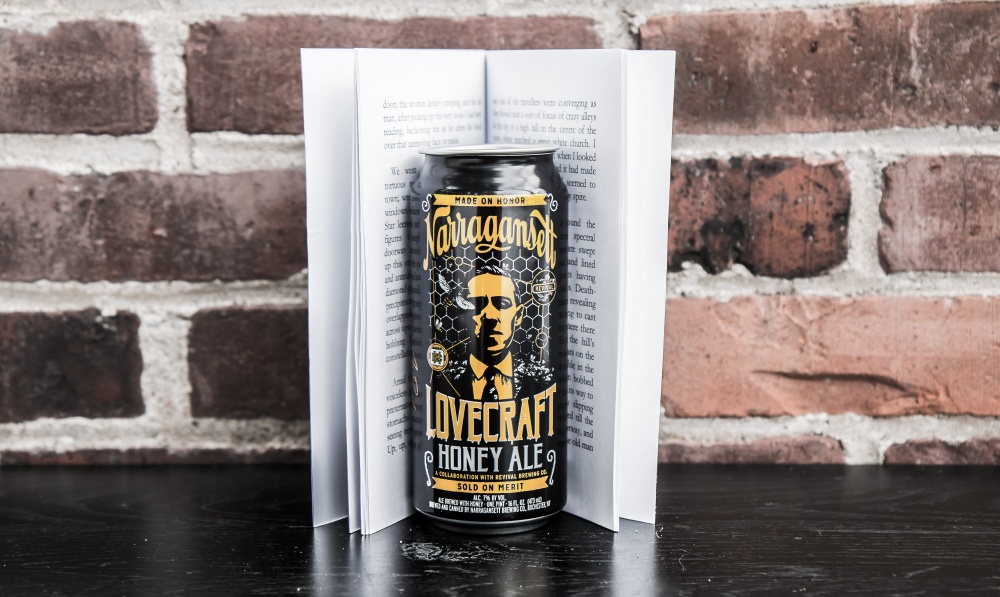 Reviews
Write your review or opinion about Lovecraft Honey Ale:
Latest news
Danish Carlsberg wants to sell beer in paper bottles
---
Carlsberg is getting closer to its goal of selling beer in paper bottles. The Danish beer company revealed two new recyclable prototypes of the sustainably-sourced wood...
read more
Tennents investing 14m in green
---
Scottish drinks giant Tennent's has said it plans to invest £14m in environmental initiatives. From next Spring, cans of the lager - made at the Wellpark brewery in...
read more
Family Fun: Labor Day fireworks and beer fests
---
A list of family-friendly events in the Houston area.
Oldest evidence of beer found in Iraq
---
Archaeologists have found traces of beer in Iraq, dating back 2,500 years to ancient Mesopotamia and the Babylonian Empire. While texts from those forgotten days speak of...
read more
[Graphic News] South Korean beer exports to China surge
---
 South Korea's beer exports to China more than doubled in 2017 from the previous year, but exports of other alcohol drop