Haffenreffer Private Stock
Description & Information:
No Description Yet!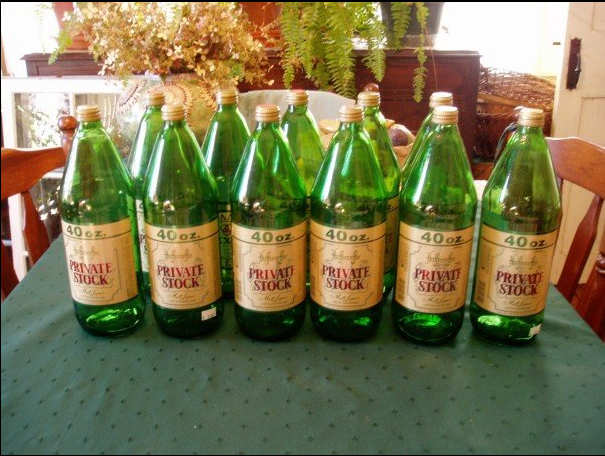 Reviews
Mark wrote on Monday 18 September 2023:
Had a nostalgic moment and looked up Haffenfaffer, a beer a choice in my youth for its flavor and power to weight ratio. Spent many a summer afternoon on Malibu Beach (the Boston one -if you know, you know) getting mellow and figuring out the puzzles. Would definitely drink it again if it resurfaced.
Vince P wrote on Saturday 19 August 2023:
I'm so sad now. I'm 60 years old and haven't drank private stock since the 80s. I lost my virginity to private stock
Raymond Kulas wrote on Sunday 2 July 2023:
I quit drinking 10 years ago and went go get a private stock an there gone wtf how can the best malt liquor in world get discontinued im not even drinking now changed my mind thank u private stock for all the great memories of getting shit faced off 2 40s
Anthony Sykes wrote on Friday 5 May 2023:
Bring it back! This was one of the smoothest malt liquors we sipped on in Texas back in the day! Anytime I went back home to Texas my cousins knew I had a cooler full of those 16oz green bottles of Private Stock so bring it back would be alright with me!
Thomas O'Keefe wrote on Monday 10 April 2023:
We used to call it HeffenWrecker, cheap way to get wrecked. I first encountered it in the late 80s early 90s in Missoula Montana . I never saw it back east, new york, where I was from. I could never figure out how they were able to make the puzzles under the cap harder and harder. The first one was easy but the 10th was impossible.
Marvin Crenshaw wrote on Thursday 6 April 2023:
Bring Private Stock back please that was my favorite beer
RICHARD WILLIAMS wrote on Sunday 26 March 2023:
YES BACK IN THE 80S THATS ALL I USE TO DRINK WAS PRIVITE STOCK MALT LIQUOIR THAT WAS THE BEER BACK IN THE DAY WEATHER IT WAS A 40 OUNCE OR A16 OUNCE OR A 12 OUNCE I HAD IT MAN THOSE WAS THE DAYS WHEN I USE TO GET OFF WORK I WOULD STOP BY THE DELI AND GET A 40 OUNCE OF PRIVITE STOCK THEY WOULD KEEP IT IN THE FREEZER NICE AND COLD JUST THE WAY I LIKKED IT MAN I WOULD LIKE FOR THEM TO BRING THAT BEER BACK AGAIN IN STORES DELIS SUPERMARKETS BEER WAREHOUSE JUST BRING BACK OKAY
Lee wrote on Wednesday 25 January 2023:
Is this coming back?
Georgia wrote on Thursday 24 November 2022:
Husband loved this beer and there was a few times I tried to keep up - pheww barely remember those nights lol
John john, Pembroke mass wrote on Monday 24 October 2022:
I was introduced to private stock buy my neighbors mechanic, late 80s- 90s it was my drink for the parties, best thing I only needed
a six pack and put it in the fridge or coolers at the parties and no one would take it not knowing it's power and taste! And if ya were feeling froggy you picked up the big "64" , love to have it back!
NateDawg wrote on Wednesday 28 September 2022:
This Product Right Here!
IS THE PHUCQ'N SHIT!!!
James wrote on Thursday 8 September 2022:
Please bring back heffy. I know this beer would be a hit again for sure. Many nights in the 80,s had this beer by my side.
P Haskel wrote on Tuesday 28 June 2022:
Like most of these reviews, I was also a fan favorite of the "Haffy" Private Stock lager…. can't believe they have discontinued this flavorful beer. Maybe a class action suit may be in order to bring this back to market… and I know I am not alone on this subject m.
Lance wrote on Wednesday 25 May 2022:
Used to drink this back in early 1980's - 16ouncers too! Was kind of a malt liquor to my taste. The rebus puzzles on the bottle caps were great. Ballantine ale had those same picture puzzles.
Ozzy wrote on Thursday 5 May 2022:
Methuen, MA here. I've lost count of how many years have gone by since my therapy sessions with a Haffy. A bad day at work, a horrible one sided marriage and all I needed was a small deluxe pizza with anchovies from 'Mano's in Glen Forest and a Haffy by my side and the horrible world melted away. Why oh why can nobody see the true wisdom and joy that this brew brought to many a person. It must be brought back! Even in a limited test release. PLEASE!!!
Mr Mac wrote on Saturday 19 March 2022:
And I grew up on private stock coming from the West side of Chicago PS was the bill to Get even on cold Winter days that did not stop the PS From being passed around great memories I wish I did not discontinue itI love my PS private stock You will be missed
Vernon Hendrix wrote on Thursday 24 February 2022:
I am from the state of Georgia I haven't had any private stock in a long time , is it any way your company can put it back on the market man that was some of the best smooth type beer any person could drink it was those best please put it back on the market, or Gmail me and tell me where can I purchase some private stock a thank, you
Pete wrote on Monday 13 December 2021:
What memories of the drinking days! My buddies and I in the Hartford area started hitting Heffs and Peils Real Draft around 1974 as well as other tasty goodies.
My hangover stopped around 1983.
Greg Tenedine wrote on Tuesday 7 September 2021:
sure would like to have a 40 oz bottle of that skunky high octane cactus juice that i so fondly remember
Rick wrote on Thursday 19 August 2021:
Definitely a classic and needs to be brought back. I'd have it in my fridge at all times
Gregory wrote on Thursday 5 August 2021:
I enjoy drinking Private stock I haven't seen it in years but I would love to have some So is there any place I can get any
Thelma Alston wrote on Monday 24 May 2021:
I would like to know if I can order it
Benjamin Cobb jr wrote on Wednesday 10 February 2021:
I would love to drink it again I miss private stock so much please bring it bacck. Can we still get it some where let me know
Chaseman wrote on Sunday 20 December 2020:
Where can I find Private Stock..... Before SUPER BOWL?*
Tony Livingston wrote on Monday 30 November 2020:
Yo I dig that PS that shit is on. That was my first drink in freshman high school. I be on the that with some joints back in the 80's, man I fuckn like a horse. Yo bring that back in action, peace out. Tjahwn1
Darren wrote on Thursday 29 October 2020:
First beer I ever had, way back in 1979 in Connecticut. I wish it was still around.
Janet wrote on Thursday 8 October 2020:
Bring it back !! Why not??
SOUP wrote on Wednesday 7 October 2020:
Me and one of my NAVY buddies were talking about PRIVATE STOCK today and we want to by some help
Quinton Walker wrote on Sunday 13 September 2020:
I been trying to find some private stock is the beer still available
Louis Rosado wrote on Tuesday 4 August 2020:
Man the day is just not a day without no private stock boy I wish I could have some NOW TO THIS DAY I CAN STILL TASTE IT.
Mark Townsend wrote on Sunday 26 July 2020:
I'm originally from Milwaukee Wisconsin where I first tried Private Stock as a very young adults and we loved it, do they still sell it and how can I get some? Can I at least order some?
Anthony georgeanthony wrote on Saturday 16 May 2020:
I'm originally from Boston and have lived iñ Kentucky for 8 years. I was telling my friends about Heffenwreckers, and the puzzles in the cap.My mouth instantly watered thinking of the first pint i ever drank 36 years ago, and mind you I'm 46..As I digress, my point is how do I get yàll to send me some
Lucinda Bowers wrote on Friday 17 January 2020:
I really love private stock beer it's the only beer that I like I wish they would put it back in the stores what a awsome beer it would be nice. Never had and hang over with private stock what a smooth beer
Eric wrote on Thursday 9 January 2020:
Private Stock was a staple in my fridge back in the 80's, please put this back on the market. I truly miss this remarkable drink and love the riddles underneath the bottle tops.
Martha Smith wrote on Monday 30 December 2019:
I love me some Private Stock would love to have me some .do they still make it ?
Doug wrote on Saturday 28 December 2019:
I used to love Private Stock myself they quit making it in 2013 but there is a Mickey beer that to me taste similar to the private stock and it even has the puzzles under the cap it's in a green bottle as well for those of you who like private stock you might want to try this beer and judge yourself you might just like it
BeerBible.net wrote on Tuesday 17 December 2019:
We're working on an order-module as we speak.
Dave Ross wrote on Monday 16 December 2019:
Can this beer be ordered
Terri Spriggs wrote on Thursday 14 November 2019:
Private Stock is the best beer that I've ever had. Do they still make this beer, if so, where can I purchase it at? But if they don't make it anymore, then they need to bring it back, please, because it is the only beer that I will drink
James Brooks wrote on Sunday 18 August 2019:
I would like to buy some Private Stock beer
Karen Rivera wrote on Friday 9 August 2019:
OMG I used to drink this beer back in the 80's-90's I would LOVE to know if ya'll still make it, IT was the BEST EVER!!
JEROME ANDERSON wrote on Wednesday 10 July 2019:
My wife loved it can't find it anywhere do you still make it
Doris Mcknight wrote on Friday 5 July 2019:
Best beer I ever tasted, no after taste smooth soft,where can I fine it in Richardson,Tx?
Jackie Buford wrote on Monday 1 July 2019:
I really don't like beer but this beer or ( malt liquor ) has a different taste to it and it is the only beer that I will ever drink. So I was wondering where can I find it in Nashville TN or ,can it be shipped or ,can it be purchased online? My last time being able to purchase this beer was the late 90's so can you please return it to the Nashville area. The only beer that doesn't really have that beer taste. Thank you
Brew Connoisseur wrote on Monday 1 July 2019:
The only Brew that sticks in my mind from my youth...smooth and refreshing.
Jim McKenzie wrote on Monday 25 March 2019:
I agree with the others: one of the best beers (malt liquors) ever brewed, especially on the rocks! I really hope they bring this back.
Willie Webster wrote on Monday 9 April 2018:
Private Stock best. Ever bring it back or tell me where I can purchase it
Wiley wrote on Monday 5 March 2018:
Why Why Why did thy stop making this beer what did we ever do to be treated this way??????/
K.BREEZE wrote on Thursday 21 December 2017:
Best Beer Ever Im in North Carolina PLEASE BRING IT BACK does anyone know where to buy this or ship it?
Lionel cooper wrote on Monday 11 December 2017:
this beer is dam good so where can I buy this beer or have it ship to me
Horace pjtts wrote on Sunday 29 October 2017:
Somebody please bring Private Stock back that was a good beer ahead of its time
Shirley Ann Parker wrote on Thursday 17 August 2017:
The best tasting beer I have ever drunk, before they discontinue this in Miami, I have drunk them for over 20 years, please bring them back, if i find one today i would be in heaven. I need this beer back in my life.
Sheryl Bruno wrote on Sunday 16 July 2017:
The best beer stateside. Can no longer find it. Hoping to find it or at the very least, if it is still being brewed. I hope it is.
Robert Burt wrote on Monday 3 July 2017:
Absolutely, the best beer on the market. As a Marine, a bunch of us (SNCO's) would set around after work at Camp LeJuene, and relax with a nice cold Private stock beer. I look for it in every store I go in. Please bring it back.
DC Lewis wrote on Thursday 22 June 2017:
The best beer ever can't find it anymore please tell me how to get it
Adrian Groves wrote on Thursday 11 May 2017:
Need these in my life where can I purchase?
Ronald Gaskins wrote on Friday 14 April 2017:
Absolutely the best beer in my life please tell me where I can get it
IVAN ROSA wrote on Wednesday 15 March 2017:
Were to buy this beer in orlando florida i love this beer one off the best ever,
Karen Pinckney wrote on Friday 9 December 2016:
I love this beer and I would like you all to bring it back please where can I buy it or can you ship it to me I live in Washington State
Ed wrote on Thursday 4 September 2014:
The only beer I will drink. There is no place to buy it where I am in the panhandle of Florida. So I don't drink beer any more. The Best!
Write your review or opinion about Haffenreffer Private Stock:
Latest news
Free beer give-away
---
Anheuser-Busch is to give away free beer when the U.S. hits Biden's July 4 vaccination goal. Anheuser-Busch, the country's leading brewer, today announced a national...
read more
Corona Beer to Halt Production
---
The suspension was announced days after the Mexican government ordered nonessential businesses to close. Corona beer has become a temporary victim of the...
read more
Johnny Walker pours whisky in paper bottles...
---
Johnnie Walker, the whisky which traces its roots back 200 years, will soon be available in paper bottles. Diageo, the drinks giant that owns the brand, said it plans to...
read more
Danish Carlsberg wants to sell beer in paper bottles
---
Carlsberg is getting closer to its goal of selling beer in paper bottles. The Danish beer company revealed two new recyclable prototypes of the sustainably-sourced wood...
read more
Tennents investing 14m in green
---
Scottish drinks giant Tennent's has said it plans to invest £14m in environmental initiatives. From next Spring, cans of the lager - made at the Wellpark brewery in...
read more