Turbo Dog
Description & Information:
Turbodog® is a dark brown ale brewed with pale, caramel, and chocolate malts and Willamette hops. This combination gives Turbodog® its rich body and color and a sweet chocolate, toffee-like flavor. Turbodog® began as a specialty ale, but has gained a huge, loyal following and has become one of our flagship brews. This ale pairs well with most meats and is great served with hamburgers or sausages. It is a good match with smoked fish and can even stand up to wild-game dishes. Turbodog® is also great for marinating and braising meats and cooking such things as cabbage and greens. Colby, Gloucester, Cheddar and blue cheeses go nicely with Turbodog®. It's perfect with spicy Louisiana jambalaya or Spanish paella. Some even like it paired with chocolate!
Factsheet:
Brewery:
Abita Brewing Co
Alcoholpercentage: 5.6 %
Best temperature: ? º
Color: Brown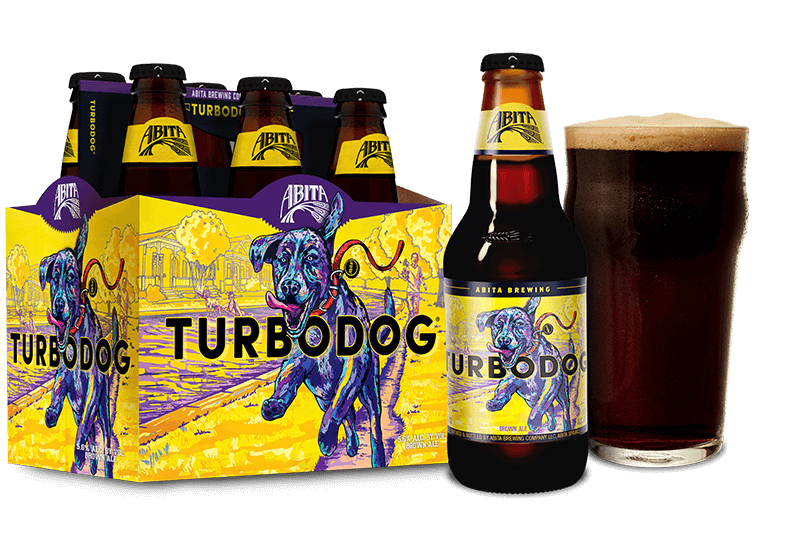 Reviews
Write your review or opinion about Turbo Dog:
Latest news
Man attacks clerk with hot dogs, corn dog stick over beer: cops
---
A Florida man desperate to get his beer Friday used hot dogs and a corn dog stick to attack a gas station clerk, police said Monday. Cavan McDaniel, 35, threw hot dogs and...
read more
German Olympians drinking non-alcoholic beer like it's Gatorade
---
Germany's Olympians don't reach for sports drinks after an especially grueling workout — or at least not any sports drink Americans are familiar with. According to...
read more
German Olympians Drink a Lot of (Nonalcoholic) Beer, and Win a Lot of Gold Medals
---
The Bavarian brewery Krombacher has supplied about 1,000 gallons of nonalcoholic beer to the athletes' village. It's commonly consumed as a sports drink in Germany.
San Diego helped popularize craft beer. Are craft spirits next?
---
A basketful of ingredients provides the flavors of Sunday Gin, the signature product of San Diego East Village's You & Yours distillery: grapefruit, Valencia oranges,...
read more
Learning to grin and beer talk of old days
---
Have you ever felt like a visitor in your own home while in the company of long-time friends and family members?