Turbo Dog
Description & Information:
Turbodog® is a dark brown ale brewed with pale, caramel, and chocolate malts and Willamette hops. This combination gives Turbodog® its rich body and color and a sweet chocolate, toffee-like flavor. Turbodog® began as a specialty ale, but has gained a huge, loyal following and has become one of our flagship brews. This ale pairs well with most meats and is great served with hamburgers or sausages. It is a good match with smoked fish and can even stand up to wild-game dishes. Turbodog® is also great for marinating and braising meats and cooking such things as cabbage and greens. Colby, Gloucester, Cheddar and blue cheeses go nicely with Turbodog®. It's perfect with spicy Louisiana jambalaya or Spanish paella. Some even like it paired with chocolate!
Factsheet:
Brewery:
Abita Brewing Co
Alcoholpercentage: 5.6 %
Best temperature: ? º
Color: Brown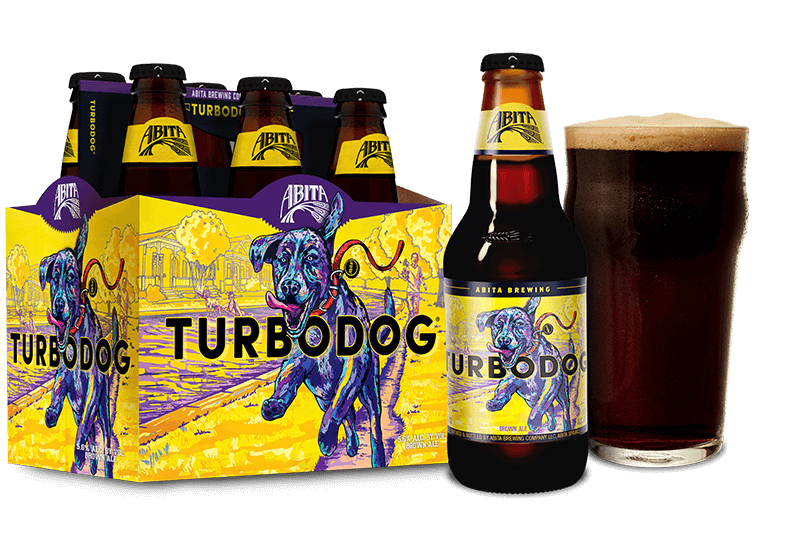 Reviews
Write your review or opinion about Turbo Dog:
Latest news
Moscow shops stockpile beer for World Cup fans
---
Moscow's shops are stocking up on beer to slake the thirst of World Cup fans after some bars reported shortages.
Climbing and beer, perch fishing, berries, TreeKeepers: WWW Chicago outdoors
---
Mix for the Wild Weekend Wandering includes climbing, beer, perch fishing on the lakefront, berry picking and registration for a TreeKeepers course.
Carbon dioxide shortage in N. Europe could affect beer, meat producers
---
A shortage of carbon dioxide in Northern Europe may cause beer to have less fizz, and meat producers could have trouble preserving some fresh foods.
Foul balls and beers don't always mix
---
He didn't get the ball and he lost the beer. A pop-up behind home plate at a Pirates game on Tuesday night came crashing down behind the dugout. One fan went for...
read more
Moscow is running low on beer due to high demand from World Cup fans in Russia
---
This is a giant red flag. It's not even one week into the tournament, but World Cup fans are partying so hard in Moscow that the capital of host country Russia is running...
read more