Haffenreffer Private Stock
Description & Information:
No Description Yet!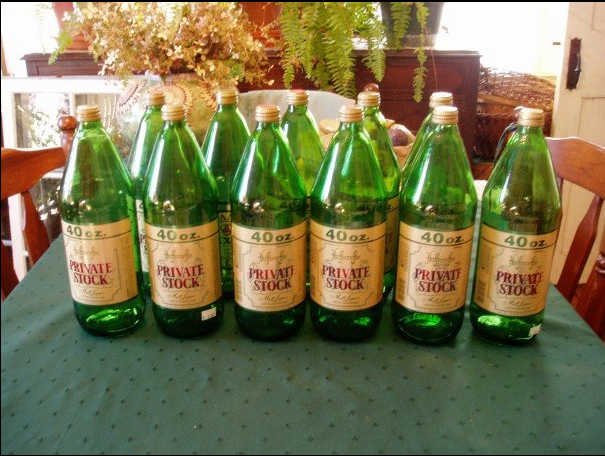 Reviews
Horace pjtts wrote on Sunday 29 October 2017:
Somebody please bring Private Stock back that was a good beer ahead of its time
Shirley Ann Parker wrote on Thursday 17 August 2017:
The best tasting beer I have ever drunk, before they discontinue this in Miami, I have drunk them for over 20 years, please bring them back, if i find one today i would be in heaven. I need this beer back in my life.
Sheryl Bruno wrote on Sunday 16 July 2017:
The best beer stateside. Can no longer find it. Hoping to find it or at the very least, if it is still being brewed. I hope it is.
Robert Burt wrote on Monday 3 July 2017:
Absolutely, the best beer on the market. As a Marine, a bunch of us (SNCO's) would set around after work at Camp LeJuene, and relax with a nice cold Private stock beer. I look for it in every store I go in. Please bring it back.
DC Lewis wrote on Thursday 22 June 2017:
The best beer ever can't find it anymore please tell me how to get it
Adrian Groves wrote on Thursday 11 May 2017:
Need these in my life where can I purchase?
Ronald Gaskins wrote on Friday 14 April 2017:
Absolutely the best beer in my life please tell me where I can get it
IVAN ROSA wrote on Wednesday 15 March 2017:
Were to buy this beer in orlando florida i love this beer one off the best ever,
Karen Pinckney wrote on Friday 9 December 2016:
I love this beer and I would like you all to bring it back please where can I buy it or can you ship it to me I live in Washington State
Ed wrote on Thursday 4 September 2014:
The only beer I will drink. There is no place to buy it where I am in the panhandle of Florida. So I don't drink beer any more. The Best!
Write your review or opinion about Haffenreffer Private Stock:
Latest news
Two brewers foaming over exclusive rights to name Mamelodi beer
---
Mamelodi is on the verge of having a beer named after the township - but beer lovers may not be able to indulge in it this festive season, as two brewers are locked in a battle.
Life in the Amazon: hunting beer and gathering together
---
Deep in the Amazon rain forest, it's that time again: beer o'clock.Members of the tiny, remote Waiapi tribe in Brazil's eastern Amazon raise...
read more
To Pair With That Thanksgiving Bird, Consider Beer
---
Wine usually takes the spotlight at the table, but beers are just as good at complementing the meal's rich, bready flavors.
Houston Astros players use World Series trophy as beer luge during locker-room celebration
---
Houston Astros pitcher James Hoyt and catcher Max Stassi had a little fun Wednesday night with the Commissioner's Trophy.
A World Series craft beer michelada costs $23.50 at Dodger Stadium
---
If you want to eat and drink like a king or queen at Dodger Stadium during the World Series, you better have some gold bullion like a king and a queen.