Big Mouth Pale Ale
Description & Information:
Big Mouth is a medium bodied pale ale with a rich golden colour. Its unique blend of US Cascade hops and UK Kent Golding hops brings out a flowery, citrus aroma and pleasant hop bitterness. Caramel malts balance this brew's bitterness, making for a refreshing, well-balanced ale.
Factsheet:
Brewery:
Hop City
Alcoholpercentage: 5 %
Best temperature: ? º
Color: ?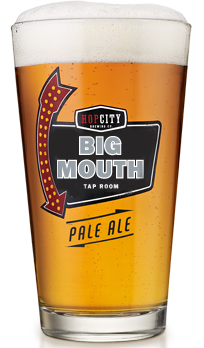 Reviews
Write your review or opinion about Big Mouth Pale Ale:
Latest news
Pabst's Olympia beer sued for false advertising 'pure mountain water'
---
Pabst Brewing Company has landed in hot water — over whether one of its beers comes from "pure mountain water" or tap water. A California beer lover claims to have been...
read more
Canadian team recreates a 4th-century beer
---
A professor in Canada has teamed up with a brewing company to recreate a fourth-century beer to learn how it was made in the ancient world.
On the Go: Free music and beer bingo
---
Or maybe you're more into doing Tai Chi by a reflecting pool.
Tom Brady destroys Stephen Colbert in beer-chugging competition
---
Tom Brady may not be this year's Super Bowl champ, but at least he can still chug beer like a champ.
CR Beer may buy Heineken
---
China Resources Beer (CR Beer) is in talks to acquire Heineken's China business in a deal that could be worth more than $1billion.