Big Mouth Pale Ale
Description & Information:
Big Mouth is a medium bodied pale ale with a rich golden colour. Its unique blend of US Cascade hops and UK Kent Golding hops brings out a flowery, citrus aroma and pleasant hop bitterness. Caramel malts balance this brew's bitterness, making for a refreshing, well-balanced ale.
Factsheet:
Brewery:
Hop City
Alcoholpercentage: 5 %
Best temperature: ? º
Color: ?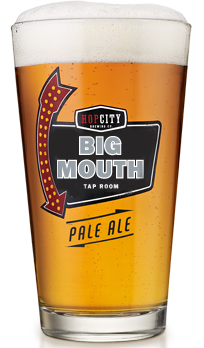 Reviews
Write your review or opinion about Big Mouth Pale Ale:
Latest news
Daegu 'chimac' festival to offer a mix of fried chicken and beer
---
The 2018 Daegu Chimac Festival will run from Wednesday to July 22 in Daegu, North Gyeongsang Province. Chimac is a compo
A brewery's contribution ahead of the Trump-Putin summit? Beer and advice
---
RPS Brewing has issued a limited-edition lager with text for Donald Trump and Vladimir Putin saying "Let's Settle This Like Adults."
Cheers for Delta as beer sales climb in Zim
---
Zimbabwean are consuming more beer despite the current cold winter season and tough economic conditions.
Man allegedly kills bartender over bottle of beer
---
A  Yaba Chief Magistrate Court, on Wednesday, directed that a 35-year-old man, Bakare Akeem, who allegedly killed a bartender over a bottle of beer, be remanded in Kirikiri...
read more
World Cup: Beers, tears, cheers as England reach semi-finals
---
People erupted in celebration and the beer went flying as England reached the World Cup semi-finals for the first time in 28 years on Saturday, AFP reports. At Flat Iron...
read more